The IRC is currently at Monitoring
Mission
The Idaho Office of Emergency Management (IOEM) is directed by Governor Executive Order to establish and maintain the Idaho Reponse Center for directing the coordination of emergency and disaster operations. IOEM has the following goals:
To prevent and reduce damage, injury, and loss of life and property resulting from natural or man-made catastrophes, riots, or hostile military or paramilitary action;
To prepare assistance for prompt and efficient search, rescue, care, and treatment of persons injured, victimized or threatened by disaster;
To provide for rapid and orderly restoration and rehabilitation of persons and property affected by disasters;
To authorize and encourage cooperation in disaster prevention, preparedness, response and recovery; and
To provide for coordination of activities relating to disaster response and recovery by all state agencies, political subdivisions, and interstate, federal-state and Canadian activities in which the state and its political subdivisions may participate.
The Idaho Emergency Operations Plan outlines the roles and responsibilities of state agencies to respond to and recover from disasters.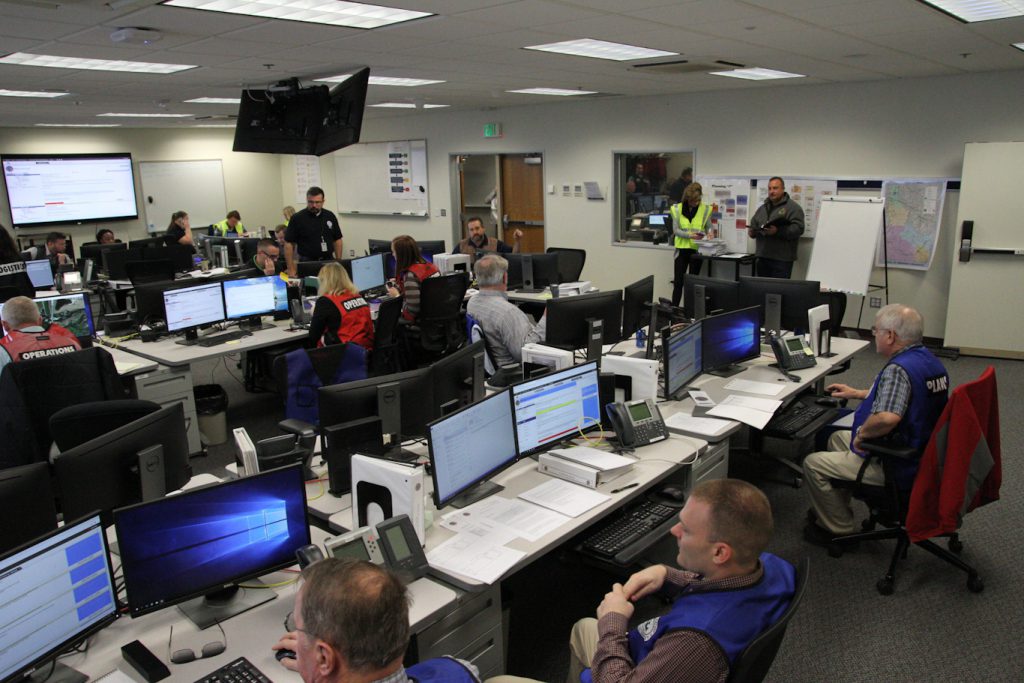 Activation Levels
There are four levels of IRC activation to communicate changes in state emergency management response activity. A change, up or down, in Activation Level is an indicator that the number, size or complexity of an event, single incident or combination of incidents has changed. At any level of activation, the IRC will work to create a common operating picture among state, local and federal agencies and will keep partners and the public informed through publication of reports, the IOEM website, social media, and WebEOC. Regardless of the Activation Level, upon closure of the incident period, there will be a transition of IRC activities to IOEM Recovery staff.
Activation levels may be modified by activating to one level with the addition of components from a different level in order to address the event. This decision is made by the IOEM Director in coordination with the State Emergency Response Team, as appropriate. Generally, activation levels encompass the elements of all preceding activation levels.
IRC Activation Level Definitions
Monitoring – Incident likelihood is low
IOEM normal operations. The IRC is not activated and IOEM staff work their day-to-day activities. While the likelihood of a disaster/emergency event is low, IOEM will continually maintain situational awareness and monitor for any incident that has the potential to require state assistance. A local jurisdiction may or may not have declared a disaster, but no state declaration is in effect.
The designated Section Chief is on call 24/7 to respond as necessary.
ESFs are not activated and state agencies are working within their normal scope.
Level 3 – Incident likely to occur or occurring
A Level 3 activation occurs when an incident is likely to occur or has occurred and the IDEOC Manager has been directed by the IOEM Director to activate the IRC. Jurisdictional disaster/emergency declarations are in place or anticipated and a state proclamation of disaster emergency may be in effect or imminent. The IRC may be receiving and processing RFAs.
The IAP process has been initiated and the operational period is generally 24 hours or longer.
Increased monitoring and communication between the state, local and federal government(s) is occurring to include increased coordination between AFOs and local jurisdictions.
ESFs are activated as needed to support requests for assistance.
Selected staff assigned to IRC, but most routine IOEM functions continue.
Selected Reservist positions may be activated.
Level 2 – Large scale or multiple ongoing incidents
A level 2 activation occurs when there are multiple ongoing incidents or a large scale (multi-jurisdictional, statewide) incident has occurred. The IRC is receiving and processing RFAs but is not completely overwhelmed. Actual or potential impact from the incident requires a high amount of direct State assistance for response and recovery efforts. Outside support through mutual aid agreements or federal assistance may supplement the state response. At this time, a state proclamation of disaster/emergency is in effect.
Operational period is generally 24 hours or less.
Activation of the 24/7 personnel roster is likely for high complexity incidents.
Suspension of routine IOEM functions.
Reservists may be necessary to supplement IRC staffing.
Multiple ESFs are activated and state agency personnel presence in the IRC may be necessary.
Utilization of EMAC and other state mutual aid agreements to support IRC operations.
Preparations are being made for a Governor's request for a Presidential Disaster or Emergency Declaration to the FEMA Region X Administrator.
Activation of the PIER Team and JIC.
Deployment of damage assessment and/or special teams is possible.
Potential for FEMA LNO to deploy to the IRC.
Potential Multi Agency Coordination (MAC) activation at State and/or inter-state level.
Level 1 – Incident that overwhelms the State's Capability
A level 1 activation occurs when the IRC is responding to an event that overwhelms the state's ability to respond effectively to a disaster without external assistance. Actual or potential impact on public health, welfare, and infrastructure is requiring an extreme amount of direct State and Federal assistance for response and recovery efforts. The ability of the IRC to fulfill RFAs has been exceeded and assistance from the federal government and other states via mutual aid agreements is necessary. The state has sent a Governor's request for a Presidential Disaster or Emergency Declaration to the FEMA-X Administrator.
Activation of State/inter-state MAC Group(s).
Establishment of a response JFO.
Implement long-term recovery program(s).
Related Links
Cherylyn Murphy
IDEOC Coordinator
cmurphy@imd.idaho.gov
208-258-6538