Hazard Mitigation planning develops strategies to minimize the impacts from hazards on the people and places we love. The Idaho multi-agency planning committee is updating the 2023 State's Hazard Mitigation Plan and wants to hear from YOU!
Idaho 2023 Hazard Mitigation Plan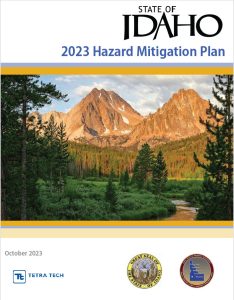 Hazard mitigation plans are documents prepared by states, local jurisdictions, and tribal nations to define their hazard mitigation goals, objectives, and actions. Mitigation plans are created to protect the health, safety, and economic interests of residents by reducing the impacts of natural hazards. Such plans must achieve several essential goals:
 Increase public awareness and understanding of vulnerabilities and support specific actions to reduce
losses from future natural disasters.
Expand understanding of potential risk reduction measures.
Create safer communities by reducing loss of life, injury, and property damage.
Reduce financial impacts on individuals, communities, and society as a whole.
Provide eligibility for post-disaster and pre-disaster mitigation funding from the Federal Emergency
Management Agency (FEMA).
Idaho's State Hazard Mitigation Plan (SHMP) also guides local governments engaged in mitigation planning. It provides critical information and guidance to local jurisdictions about the State's risks from natural hazards as well as state capabilities, priorities, and action plans. The plan focuses on hazards and risks that affect local jurisdictions, including impacts from risks on the built environment; community lifelines; future conditions; population; land use; and socially vulnerable communities. The SHMP also assesses the effects of climate change on hazards, their potential impacts, and strategies for addressing them.