The IOEM Plans Section's is tasked with the maintenance and update of several state and agency level plans including the Idaho Emergency Operations Plan (IDEOP), IOEM Continuity of Operations (COOP), Continuity of Government (COG), and Long Term Recovery Plans. The section also manages the update of the state's Threat and Hazard Identification and Risk Assessment (THIRA) and Stakeholder Preparedness Review (SPR).
Subject matter expertise and technical planning assistance is available to counties, tribes, and state agency partners.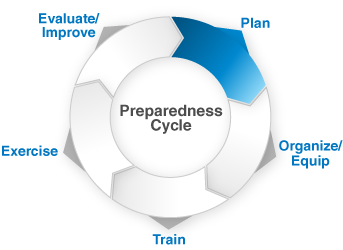 Emergency Planning
Emergency planning consists of the development and maintenance of emergency plans with input from a broad swath of stakeholders. This shared planning community increases the likelihood of integration and synchronization, makes planning cycles more efficient and effective, and makes plan maintenance easier.
Idaho Emergency Operations Plan
COOP
Continuity planning ensures the mission essential functions of an organization will continue to be performed during an event that limits the capability of that organization.
THIRA/SPR
The Threat and Hazard Risk and Identification Assessment (THIRA) evaluates the the threats and hazards faced in Idaho and establishes benchmarks for actions across FEMA's 32 core capabilities. The Stakeholder Preparedness Review (SPR; formerly State Preparedness Report) measures the state's ability to meet those benchmarks and identifies gaps across the elements of planning, organization, equipment, training, and exercise.
Maija Reed
Plans Section Chief
208-258-6541
mreed@imd.idaho.gov
Delanie Edmunds
Emergency Planner
208-258-6577
dedmunds@imd.idaho.gov
Christina Lazar
Emergency Planner
208-258-6552
clazar@imd.idaho.gov