Purpose
The State of Idaho Office of Emergency Management (IOEM) Reservist/Volunteer Program is designed to utilize citizens who want to volunteer their time to support the citizens of Idaho during State disasters and emergencies. The SERT has positions that are necessary for operations during level 2 and level 1 activation. Reservists/Volunteers will be trained prior to an incident and then fill positions in the SERT during a disaster activation.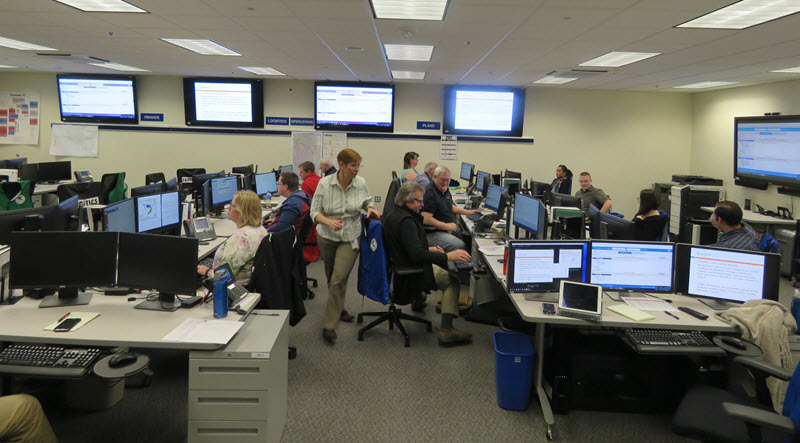 Qualifications and Requirements
It is required that Reservists have basic computer skills prior to orientation. All Reservists and staff need to have basic skills in Microsoft Office: Word, Excel and Outlook. Reservists must be able to handle high stress, long hours and be available with short notice. The type of work associated with the Reservist positions is office oriented with long periods of sitting. Training and exercises occur during regular work day hours. It is required that Reservists have a flexible schedule to attend training.
All Reservists and staff are required to take various online training. This training is offered at no cost to the individual. Most classes take between 3-6 hours and are broken into shorter segments of approximately 15-45 minutes each. All positions must take the classes listed below. Training specific to each position can be found in the position descriptions below.
Online classes can be found at FEMA Training.
For the reservist program all individuals participating in the State Emergency Response Team activation, including amateur radio operators, need to take IS-100 and IS-700. Individuals that fill leadership positions are also required to take IS-800 and IS-2200, as well as classroom course G191 Incident Command System/Emergency Operations Center Interface.
Registration Process
If you are interested in participating in the Idaho Emergency Operations Center Reservist Program you will need to take the online SERT Reservist Orientation and then fill out the Reservist Information Form.
Please submit this form to:
Cherylyn Murphy
IDEOC Program Coordinator
Idaho Office of Emergency Management
4040 W Guard St, Bldg 600
Boise, ID 83705
cmurphy@imd.idaho.gov
Once you have filled out the Reservist Information Form and completed Idaho SERT Introduction and WebEOC Introduction. When the next courses are scheduled, you will receive an email with the date and time, which are held twice a year. Reservists must be able to clear a background check.
If you choose not to provide the data necessary for the background check, you will be unable to participate in the reservist program.
SERT Positions
The State Emergency Response Team (SERT) is based upon a modified Incident Command System (ICS). The General Staff are organization are similar to an ICS Incident Management Team. There are some modifications to the units under each of the general staff positions to accommodate the needs of the SERT functions.
Plans Section
The Plans Section is responsible for the collection, evaluation and dissemination of information about the incident. The Plans Section looks at the local situation as reported and creates a statewide situational report and maps, and assembles the Incident Action Plan; then distributes these reports. This section provides information on future possibilities and provides documentation for the SERT. The Units/Positions within the SERT Plans Section are:
Logistics Branch
The Logistics Branch is responsible for providing all support needs to the incident. The logistics branch fulfills requests for assistance using the best and most cost effective resource; mission assign state agencies, requesting federal resources, mutual aid or reimbursing the jurisdiction. It provides facilities, transportation, supplies, equipment maintenance and feeding.
The Units/Positions within the SERT Logistics Branch are:
Resource Specialist
EMAC Coordinator
IT Specialist
WebEOC Specialist
Communication Lead
Communication Technician
Finance Branch
The Finance Branch is responsible for all financial records. They procure resources, track personnel, keep and reconcile timesheets, document costs, and maintain the overall budget.
Finance Section Chief
Cost Specialist
Time Specialist
Procurement
Accounting
Claims
Operations Section
Operations Section has oversight on resources which may be provided by state agencies as requested by jurisdictions impacted by an emergency disaster event for which a State or Federal Proclamation of Disaster Emergency has been issued. The purpose of this oversight is to ensure effective mission execution for all resources deployed into or in support of a jurisdiction impacted by an emergency incident/event. This oversight begins upon resource deployment or acquisition and continues through resource demobilization. Oversight includes staging area when these resources are active. Resource oversight requires intensive coordination with all Emergency Support Function (ESF) Coordinating, Primary, and Support Agencies providing resource assistance.
Operations Section Chief
Deputy Operations Section Chief
State Emergency Support Function Coordinators and Liaisons